HOT LINKS
For All Writers
For Screenwriters
INDUSTRY ORGANIZATIONS AND GUILDS
Academy of Motion Pictures Arts and Sciences– Script library. Sponsors the Nichol Fellowhip (listed under contests).
Academy of Television Arts and Sciences
Directors Guild of America - Sells a directory of members.
Writers Guild of America, East, Inc. -Number for registration service: (212) 757-4360. Agency List is available. Sells a directory of agents and members. Services available to non-members.
Writers Guild of America, West, Inc. - Number for registration service: (323) 782-4500. Agency list is available. Script library. Services available to non-members.
WRITERS ORGANIZATIONS
Independent Feature Project - Centers in Los Angeles, New York, Chicago, Miami, Minneapolis-St. Paul, and Seattle. For independent filmmakers. Writers are welcome.
Organization of Black Screenwriters, Inc. - For African-American writers.
Scriptwriters Network - Must submit a completed script to gain full membership.
Wisconsin Screenwriters Forum - Writers organization, newsletter, and contest.
Women in Film - Provides a variety of services and programs to foster professional growth. To join, you must have at least one year of professional or academic experience.
NOTE: Additional screenwriting groups and writing groups are listed at my Community page under Writers Groups.
SCHOOLS
American Film Institute - Seminars and courses.
Columbia University, School of the Arts
Full Sail University– Entertainment, Media & the Arts -- Creative Writing MFA Program
Hollywood Film Institute (Dov S-S Simens) - Two-day film-school crash course. Producing, writing, directing, and financing classes.
New York Film Academy - Total-immersion eight-week workshops where each individual writes, directs, shoots, and edits his or her own film. Also in London.
New York University, Tisch School of the Arts Arts
Screenwriting Center - (800) 264-4900, (801) 492-7898. Dave Trottier conducts online courses, workshops, and correspondence courses, including the Write a Showcase Script certificate program and the Sundance Retreat. Script evaluation, query evaluation, books, software, information.
Sherwood Oaks Experimental College
UCLA, Dept. of Theater, Film and Television
Note: Many universities and colleges have continuing education departments that sponsor writing seminars, workshops, and non-credit courses.
SOFTWARE
Final Draft - Formatting software. Can be purchased at my store.
Movie Magic Screenwriter– Formatting software. Can be purchased at my store.
Power Structure– Story development.
ScreenwritingPro– Web-based formatting program.
Truby's Blockbuster– Story planner
DIRECTORIES
Hollywood Screenwriting Directory– contact information for producers, studios, and more.
IMDB and IMDB Pro - Industry information, including information on agents and producers.
Scriptsales - Done Deal Pro provides a service that lists the sales of spec scripts and the parties involved.
PERIODICALS
Canadian Screenwriter - Quarterly magazine available from the Writers Guild of Canada.
Daily Variety - The most-read trade publication. There is also a weekly version, Weekly Variety, at the same address.
The Hollywood Reporter - Daily trade publication. They also publish a directory of participants in the American Film Market in February.
Movie Scope Magazine– Based in the United Kingdom
Script – Online magazine for screenwriters featuring articles on the draft and business as well as interviews with industry professionals.
Variety—See Daily Variety.
Writer's Digest– Bi-monthly for writers of every kind. Available on any newsstand.
Written By - Writer's Guild of America, West, Inc.
BOOKSTORES
Amazon.com and Barnes & Noble are probably the biggest bookstores online and on ground. The following are bookstores for writers.
Biz Books - 302 W. Cordova St., Vancouver, BC, Canada V6B 1E8, (604) 669‑6431. Western Canada's only dedicated film, television, and theater bookstore.
Book Soup– 8818 Sunset Blvd., Los Angeles, CA (310) 659-3110
Drama Book Shop - 250 W. 40th St., New York, NY 10019, (212) 944-0595. New York's top film and drama bookstore.
Larry Edmunds Bookshop - 6644 Hollywood Blvd., Hollywood, CA 90028, (323) 463-3273. Industry books of every kind.
Skylight Books– 1818 N. Vermont Avenue, Los Angeles, CA (323) 660-1175.
Theatrebooks– 101 Spadina Avenue, Toronto, ON, Canada M5V 2K2, (416) 922-7175.
Vroman's Bookstore– 695 E. Colorado Blvd., Pasadena, CA (626) 449-5320
The Writers Store - 2040 Westwood Blvd., Los Angeles, CA 90025, (310) 441-5151, (800) 272-8927. Your complete source for software, books, and instructive media. Screenwriters University online courses.
SCRIPT SOURCES
Note: Scripts may also be found in college libraries, the WGA offices, the Academy of Motion Picture Arts & Sciences, the American Film Institute, the bookstores in my "Bookstore" section above, and the New York Public Library for the Performing Arts (40 Lincoln Center Plaza, New York, NY 10023).
Scriptfly - Sells scripts.
Drew's Scripts-o-Rama - Scripts you can read online for free.
Internet Movie Script Database - Movie scripts available free.
Simply Scripts - Scripts you can read online for free.
Hollywood Book and Poster Company - Sells scripts.
MyPDFscripts - Free feature film and TV movie scripts in PDF.

CONTESTS
What follows is a "short list" of contests that are worth considering, but there are many other major and minor contests. Contests are listed in most screenwriting publications and on the Internet. Here are three sources of contest information:
Moviebytes– Screenwriting contests and markets
Screenplays Competition Directory
Done Deal Contests Directory
There are also many small contests sponsored by colleges, universities, film schools, and writing groups. These may be advertised in the trades and other film and writing publications. Contact your state film commission for information on local contests. When reviewing contest information, keep in mind that contest sponsors may change deadline dates, procedures, and other parameters. Contact each for up-to-date information. Parameters change often.
Austin Film Festival Screenplay Competition
Big Break - Sponsored by Script Magazine and Final Draft.
Big Star Screenwriting Competition
Disney/ABC Writers Fellowship - Award: $50,000 plus year-long internship at Disney. Program is open to all writers in motion picture and television (except WGA members), but gives preference to women and minorities.
Filmmatic Screenplay Contest - Win in 10 different categories.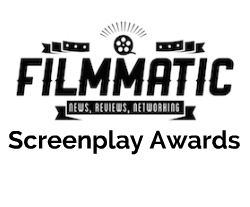 Kairos Prize - For spiritual uplifting screenplays.
Nicholl Fellowships in Screenwriting– sponsored by the Academy of Motion Picture Arts and Sciences - this is probably the most prestigious screenwriting competition. Entrant cannot have earned more than $5,000 as a screenwriter. Award: $35,000. Deadline: May 1. Winning scripts can be read at the Academy's Margaret Herrick Library, 333 S. La Cienega Blvd., Beverly Hills, CA 90210.
PAGE International Screenwriting Awards - Awards given in nine different genres, including TV. Award: $25,000 in cash and prizes. Places material in the hands of Hollywood professionals.
Scriptapalooza Screenwriting Competition - Also sponsors a TV writing competition.
Slamdance Screenplay Competition
Sundance Institute - Conducts script development workshops in Utah each summer and winter. Run by Robert Redford.
Warner Brothers Writers Workshop
INTERNET SERVICES
Inktip - Links screenwriters and authors with entertainment professionals. Recommended.
ReadThrough– Listen to actors read your script.
SandlerInk– If you want to write for television, including pilots, I recommend Emmy-nominated writer and producer Ellen Sandler (Everybody Loves Raymond).
Script P.I.M.P. - Links writers with development executives.
Talentville - An online community for creative minds.
TV Writer– Contests, classes, and more.
Writer's Building - For anyone interested in screenwriting.
Writer's Room - For those who want to write for BBC programs.
Belva's List– Things to do in and around Seattle and Western Washington – an information and entertainment resource. There are some screenwriting links.
Grammar, infographics and similar tools